Saturday September 27, 2008 

Cabernet Afternoons, Starry Nights, Great Friends…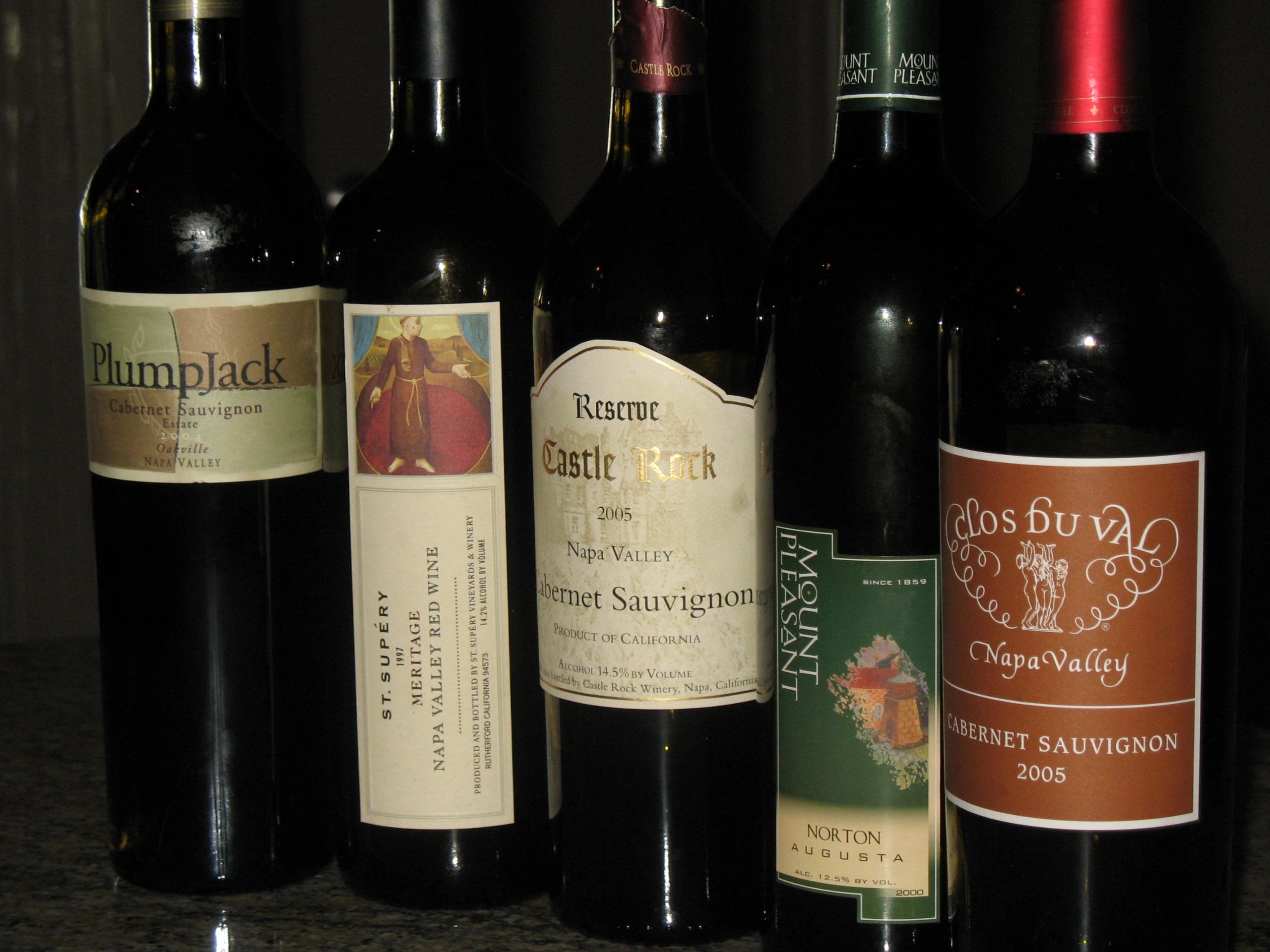 There are few things in life as enjoyable and just plain fun as sitting in our northern Michigan home at the Homestead, looking out at the Lake Michigan and the Sleeping Bear Dunes and sharing a bottle of wine with friends and family.    One thing we always look forward to "up north" is visiting with our retired friends – the Jordans (Al & Mary) and the Burkes (Bill & Sue). 
During our past trip, it was our turn to host so I pulled some special bottles from my cellar comprising of a 2004 PlumpJack Cab, 1997 St. Supery Meritage and a 2005 Clos Du Val cab so we could all enjoy.  Al brought a 2000 Norton and Bill produced a 2005 Castle Rock Reserve to complement the evening.  Roberta artfully executed an decadent meal consisting of filet mignon, shrimp scampi and sautéed vegetables which was only topped off by Mary's (made from scratch), irresistible peach pie. 
There are few things as pleasurable and fantastic as cracking open a great bottle among friends.   To say we enjoyed the wine – not to mention the company – was an understatement.  We started with the St. Supery and served cheese and crackers out on the deck, opened the Castle Rock and Norton during the appetizer phase so we could compare them together, and then served the PlumpJack with the steaks.  (Don't ask me when we opened the Clos Du Val – I somehow lost track but believe me we sampled that as well both before and after the meal).
As the sun set and the stars materialized, we kept with our tradition of ranking the wines from one to five.  In the past, I must admit that we haven't always rated the most expensive wine the best tasting.  But on this night, the PlumpJack was king with the St. Supery a very close second.  (Al said the St. Supery actually had an advantage since we drank it with a clean palate, while Bill felt its robust flavor came due to its aging.  It was the oldest wine we drank that night).  Nonetheless, we all agreed that the PlumpJack was hard to beat and deserved the Number 1 ranking.
The Castle Rock Reserve and the Norton came in neck and neck for third place (with the Reserve getting a slight nod) while the Clos Du Val surprisingly came in last.  Before the evening ended, we took in the northern starry night one last time, amazed at the beauty and splendor of the Michigan night.  Our friends soon departed, but not before planning our next get together at either Thanksgiving or Christmas time. 
Hmmm…holidays, winter in Michigan…I know just the perfect bottle of wine I'm going to bring.  
________________________________

Tuesday August 26, 2008
I've Hooked up with an Editor… 

Wow – it's been a while since the last time I posted to this blog, and yet there's been so much going on!  The most exciting piece is I finally hooked up with an editor! 
After making several inquiries to various sources, I came up with a short list of potential editors to solicit for assistance on my Predator Within novel.  I contacted each and to my disappointment received word back that they were either no longer editing, too busy to take on new clients for several months, or were busy caring for an elderly parent (something I know about).  Now feeling really depressed and not sure which way to turn, I received the following message from a member from the MWMWA@yahoogroups.com:  
 
"Book Autopsies Done by The Knife Editorial Services at "cut rate" prices. The Knife has published over forty novels and has taught writing for over 30 years without a single complaint. Clients have gone on to publication. Contact the Knife at inkwalk@sbcglobal.net with query line - Knife Services."   

Not sure what to expect, I sent an email requesting information on the services and was pleasantly surprised when Robert W. Walker emailed me back.   Having written over forty novels within the mystery and horror genres, Rob is not only an accomplished writer, but someone I felt I could connect with. 

I immediately contracted him to help edit my book and to gain insight into the publishing world.  The experience has been of tremendous help as Rob has taken me through a mini writing workshop of POVs', tenses and structures.  But he has provided much more.   

Rob doesn't just proof read my work for grammar and spelling, but has given me advice on structure, dialogue and even some of the sequence of events.  So far, he's given me a perspective that I haven't received thus far –true feedback and input from a proficient writer. 

I'm still working on the final pages that were sent to me over the weekend, but so far my experience with Rob has been enlightening and helpful.  I would highly recommend Rob to anyone looking for editorial assistance.  He can be reached at the above email address or visit his website at www.robertwalkerbooks.com.
________________________________

Monday August 11, 2008
What a Great Book… 

After reading several reviews, I must admit I was really looking forward to reading the epic The Story of Edgar Sawtelle by debut writer David Wroblewski.  

I wasn't disappointed!

Okay, on the surface you look at the 562 pages and wonder if the author can sustain your attention for that long.  Let me reassure you – not only does Wroblewski weave an interesting story- but this is one of those books that comes along only once in a great while.  I don't remember a novel that has captivated me this much since reading Lonesome Dove or Watership Down (still two of my favorites).  Once I got into the book I actually began reading it slowly, appreciating each word, hoping to extend my enjoyment that much longer.  

Wroblewski magically creates an astonishing and strange coming of age tale of Edger Sawtelle and his family who maintains the family business of breeding specialty dogs.  You don't have to love dogs to love this book, but if you have a link with a canine, it will enhance your reading experience.

The story takes you on a roller coaster ride filled with excitement, sadness and heart break.  As I approached the ending, I did so with regret – knowing that soon my experience with Edgar and his dogs would soon end.   

I really loved this novel and highly recommend it.    
________________________________

Saturday August 2, 2008
Getting Search Engine Optimization… 

Since I started my website on May 5th, I've received almost 1400 hits (which is nothing to sneeze at) but still not the type of activity I was hoping for.  Then I saw an article in the latest Money magazine about increasing "search-engine optimization".   
Now, I have to admit that although I'm not a computer illiterate, I still have quite a bit to learn about the internet.  So when the Money article referenced two sites (Hubspot.com and SEOBook.com) to get tips for improving traffic to websites, I decided to attempt to achieve some results on my own.   

I sheepishly admit that on Hubspot.com my website grade was only 4 out of 100!  (At least it wasn't 1 out of 100)  Boy – I knew my work was cut out for me.  For anyone with their own website, this is a great site to get a report and even see how your website performs against some of websites similar to yours.

I quickly realized as I scanned through the report I received, that my website wasn't ranked on Google (major – considering over 75% of the people searching the web utilizes Google), wasn't being tracked on Alexa, wasn't in the DMOZ Directory, or listed on Yahoo and ZoomInfo. 
 Among other things the report showed that my blog page wasn't connected to Technorati.com – the most popular blog service out there.  It's almost mind boggling what you have to do to be noticed on the web.
So what's an aspiring writer to do?
 Well for one thing…I realized I have a lot of work to do. 
Getting my Blog onto Technorati at http://technorati.com/claim/5q222ivms2  and getting on the Google directory today is only the start.  There are still a number of items that need addressing.  Will it help?  Will it improve traffic to my website?  Only time will tell.  There's nowhere to go but up!  
 ________________________________